ARE YOU PASSIONATE ABOUT SOFTWARE AND NEW TECHNOLOGIES?
More than 10 years of experience developing technological solutions for relevant organizations in the space sector write our DNA.
Specialised in their projects and engineering processes and in the value that information technologies can bring to them.
We are present in Spain and Germany is a reference partner in the transformation of their engineering and management processes.
At IMMEDIA, you will join a unique teamwork environment where the encouragement to contribute with your talent, imagination, and commitment is constant.
You will be part of multidisciplinary teams where diversity prevails. You will be able to inspire and lead change, contribute your vision, and generate a positive impact on the space sector and our business.
This is your opportunity. Grow with us!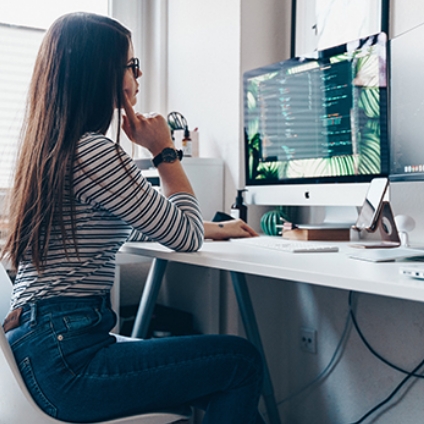 JOB OFFERS
We are seeking for a Quality Management Engineer to join our team delivering specialised services to our client, EUMETSAT.
EUMETSAT is an international organization focused on the operation of meteorological satellites for monitoring Earth's weather, climate, and environment from space. With a primary objective of detecting weather and climate changes to issue forecasts and alert authorities, they play a crucial role in preventing potentially dangerous situations and mitigating their effects.
As a Quality Management Engineer, you will provide quality support in highly critical projects where process standardization and reliability are key aspects. By joining IMMEDIA, you will have the opportunity to foster your career working in an exciting environment, contributing to important initiatives that will impact the global community. Let us accompany you in your professional development in the space industry.
Main responsibilities:
Provide expert quality support for highly critical projects, ensuring process standardization and reliability.

Monitor the suitability and implementation of QM plans and policies in engineering projects

Contribute to the organization and execution of formal reviews and verification and validation campaigns.

Manage the anomalies process, including identification, resolution and documentation

Monitor and contribute to the risk management processes, lessons learned and project documentation review.

Generate comprehensive metrics and reports, defining and implementing new indicators as needed.

Ensure the smooth development process and acceptance of projects carried out by external providers.
Successful candidates must have a university degree in Engineering or other scientific or technical careers, and fulfill the following requirements:
At least 4 years of proven experience in Quality Management (QM) positions, preferably in the space industry or other complex engineering environments.

Knowledge of system engineering life cycles, relevant standards (e.g., INCOSE, ECSS), and integration with software engineering

Experience in managing system anomalies and non-conformities

Excellent command of English both written and spoken
Experience and knowledge in the following aspects will be positively valued:
Certifications in Quality Management audits and/or process evaluation (e.g., ISO 9001 auditor)

Project management, particularly in risk management, lessons learned, formal reviews and project documentation

Experience in definition and implementation of KPIs, including data analysis and generation of dashboards

Experience working in international environments
We offer:
Indefinite term contract

Professional development opportunities in the space sector

Competitive salary with annual reviews

Multicultural working environment that promotes collaboration and easy integration

Participation in international projects that make a global impact

Additional vacation days
Candidates must be eligible to work in Germany.
We are opening a position in our Project Management Support team at for our client EUMETSAT, a premier leading international organization dedicated to focused on monitor weather, climate, and environmental conditions from space. By joining IMMEDIA's consulting team at EUMETSAT, you will have the opportunity to work in a dynamic and challenging environment, contributing to important initiatives that will impact the global community.
KEY RESPONSIBILITIES
As a Project Management Consultant at IMMEDIA, you will play a crucial key role in ensuring the successful execution of complex engineering projects, working as part of a Project Management Office (PMO) composed of specialists in different disciplines related to Project, Program and Portfolio Management (PPM). Your responsibilities will include:
* Assist Project and Program Managers in the implementation of management practices ensuring compliance with the internal Project Management standards and processes, over the project initiation, development, tracking and closure: scope, milestones, risks, actions, reporting, etc.
* Support the preparation and execution of project formal reviews (PDR, CDR, etc.) along the project lifecycle.
* Generation of progress reports, minutes of meetings, actions follow-up, etc.
* Participate in change management initiatives
What We Offer
Opportunities for professional growth and career advancement within IMMEDIA

U

nique international working experience

in contact with relevant projects for space organizations

.

A competitive salary package

commensurate with your qualifications and experience

.

Exposure to challenging and meaningful projects at international space organizations, contributing to the global community.

Good working conditions

with partial teleworking

(including additional holidays

)

A multicultural and collaborative work environment

that encourages innovation and personal development

(Solo versión Español): Ayudas a la relocalización y facilidades para socializar e integrarse en el nuevo entorno

Access to training programs and resources to enhance your skills and expertise.
If you are a motivated and talented individual with a passioninterested in for developing your career in the area of project management and are looking to make a significant impact, then we want to hear from you. Join our team at IMMEDIA and be part of an exciting journey in shaping the future of project management in the space industry.
Bachelor's degree in an Engineering, Scientific or a related field.

At least 3 years of

working experience in complex software or engineering projects

,

in any technical or support position.

D

emonstrated

know

l

e

d

ge and

hands on experience in

at least

one o

r more of

the following subjects:

Project or technical management support

Managing projects

in engineering environments

(space, aeronautics or similar)

, with

proficiency

familiarity with

in

standards, development methodologies and complex system building.
Project/Program management support as part of a project management office (PMO),

contributing to the

defini

tion or

ng and

implement

ation of

ing

standard project management practices (i.e. risk management, action control, reporting, scheduling & planning).

Quality management for complex engineering projec

ts.

Excellent communication and interpersonal skills, with the ability to work effectively with diverse teams and stakeholders.

Good command of English (professional competence)
The following additional skills would be a plus:
Recognised certificate in the field of project management (e.g., PMP/Prince2/PM2/AgilePM)

Experience in the aerospace sector

Experience in engineering technical positions

Experience in project and portfolio management tools

Experience in project QA

Experience in Data Analytics

and KPIs
SEND US YOUR CV AND BE PART OF THE FUTURE OF IMMEDIA
If you want to join Immedia and do not see an offer that fits your profile, you can send us your CV to assess your skills.
In any case, look at our vacancies periodically, as we open opportunities in Spain and the Frankfurt area, Germany.