Taking advantage of the 20th anniversary of the European Centre for Space Registration (ECSR) at ESA-ESRIN, ESA has launched a portal for access to its historical archives. This portal is the result of a project we have carried out, which has involved portal management, development and graphic design activities.
The ECSR is one of the physical homes of the ESA Historical Archives, whose purpose is to retain knowledge and maintain a documentary record of ESA's activity related to space projects and missions.
Through the portal we can learn about ESA's history, its evolution as an organisation, its achievements and challenges, people and partnerships, and how cooperation in space activities between European nations has contributed to European integration and identity. The portal offers a timeline viewer that allows you to navigate through the most relevant historical milestones.
The portal also provides access to the SHIP database (from the ESA Archives Portal homepage), and to images from the ECSR photo collection, allowing full searches and finding collections from missions such as: Envisat, Rosetta, Artemis, SOHO, among many more and material concerning administrative and legal matters, along with decision-making processes. As a curiosity, the centre houses an impressive seven linear kilometres of documents.
The Digital Resources page (accessible from the portal home) gives access to ESA's holdings deposited in the European Union Archives, which focus on the founding, management and administration of ESA and its predecessor organisations (COPERS, ESRO, ELDO, ESC and CETS).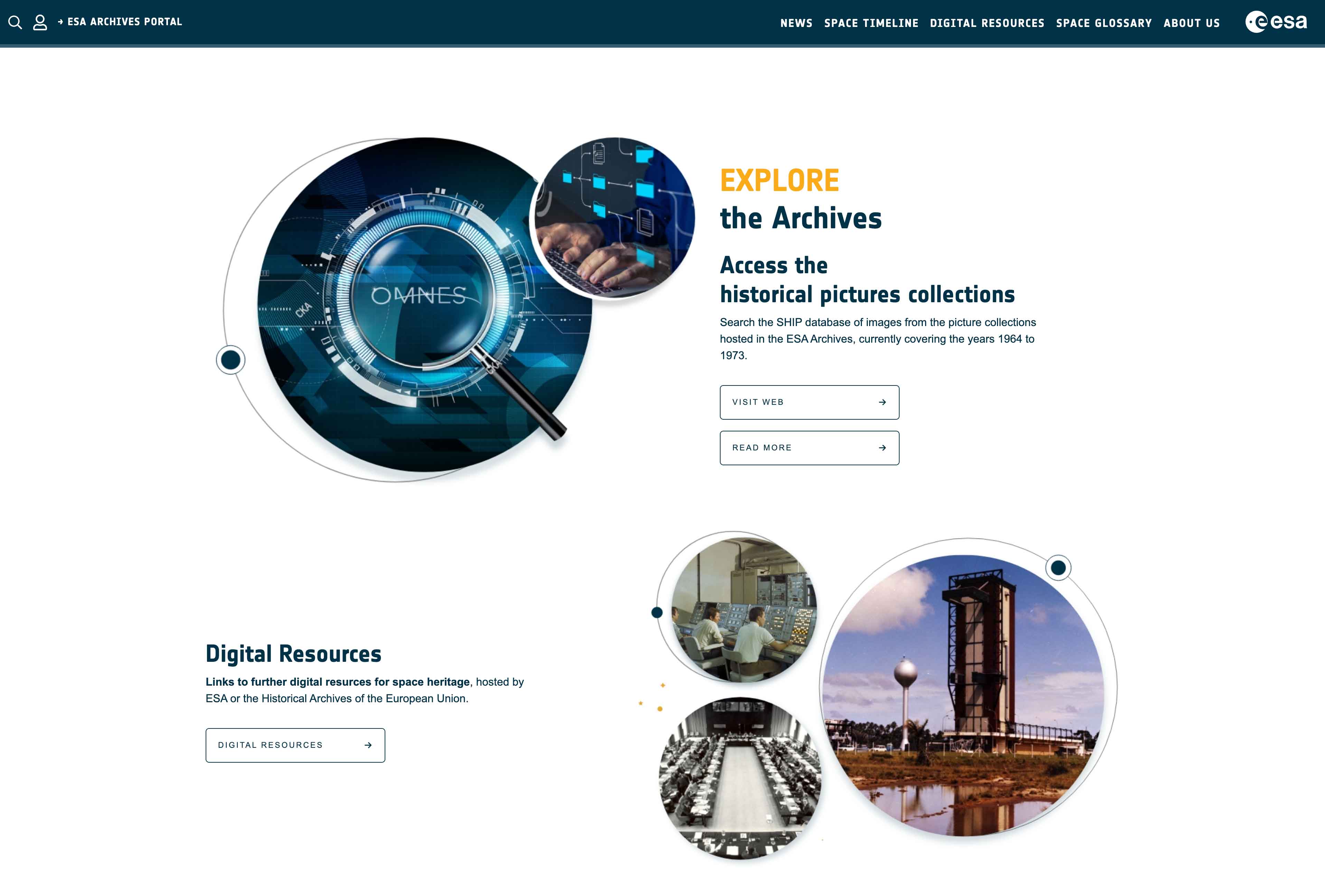 The ESA Archives team continues its digitisation activities, adding new collections on a regular basis, increasing the functionalities and developing further resources on Europe's legacy in space and highlighting each month some of the treasures hidden in its care that you can find on the portal homepage.
The portal is developed on Drupal 9 and uses Apache Solr as search engine. As usual for this kind of solutions, the portal is also integrated with different corporate systems, such as user authentication and Single Sign-On (SSO), and traffic analytics, based on Matomo.
In conclusion, we are proud to have participated in the dissemination of ESA's history to the public, contributing our experience in the development of portals for the dissemination of information, and in the integration of various repositories and their metadata.
Drupal
Space
Dissemination of information
Apache Solr
Go to Blog